David Ignatius Buckley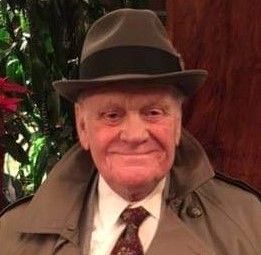 David Ignatius "Spike" Buckley died peacefully at home with his family at his side on February 13, 2023, in Portland, Oregon. He was born on December 28, 1934, in Brighton, Massachusetts, the son of Cornelius Buckley and Abina Buckley (née Barry), who immigrated from Fermoy, Ireland. He is survived by Patricia Marie "Alex" Buckley (née Collins), his wife of 65 years. Spike and Alex were the loves of each other's lives – best friends and inseparable soulmates.
He is also survived by his children, David I. Buckley, Jr. (Yumei Wang), Erin Buckley, Laura Buckley (Kelly Lipp), John Buckley (Karla, née Reed) and grandsons Adrian Buckley and Christopher Buckley. He was predeceased by each of his eight brothers and sisters and his granddaughter, Nicole Whitley. Spike is also survived by over 600 extended family members with whom he connected over many decades through his extensive genealogical research. Through that research, he located and established lasting relationships with many previously unknown family members in Ireland. Family was the most important thing to him. He was passionate in his love of his family and they were passionate in their love for him.
Spike was a gentle man and a gentleman, with a great sense of style. He was admired for his keen intelligence, creativity, quick wit, patient good humor, kindness, and generous spirit. He possessed a charm and charisma that drew people to him. He had a special way of setting people at ease and making quick friends from all walks of life. He had a strong sense of justice and fairness and he never hesitated to help someone in need – with material support or with the benefit of his wisdom, experience, good judgment, and practical guidance in many matters of life.
Spike was always inquisitive and considered all sides of a question with an open mind. He loved to travel with Alex, collect rare books on Irish history, read about new findings in astronomy and archeology, and carefully follow the exploits of the Denver Broncos. He was an excellent guitarist, gardener, and public speaker. He enjoyed keeping up with the latest in personal computing technology throughout his life. He knew hundreds of good (and bad) jokes, which he could tell better than anyone. He was a friend of Bill W. for 59 years.
He graduated from Saint Columbkille High School in Brighton, MA, earned an electrical engineering degree from Northeastern University, and was a veteran of the United States Air Force. He enjoyed a very successful 40-year career at the MITRE Corporation, which he joined at the time of its founding in 1958, and from which he retired as a corporate Technical Director. He was a respected executive, leader, and innovator at MITRE, where he worked on NASA's Apollo space program, the design and development of the North American Aerospace Defense Command, and other projects with the U.S. Department of Defense and the United Kingdom's Ministry of Defence.
Above all, Spike was a wonderful and loving husband, father, grandfather, uncle, cousin, mentor, and friend. He made the world a better place, in big ways and in small ways. He will be deeply missed and never forgotten.
In keeping with Spike's wishes, his family held a small memorial service. In lieu of flowers, donations may be made to the Portland Police Department's Sunshine Division.